Nursing services at home
Depending on your medical condition, your individual needs and the nursing care you need, our health care staff visit you at home on a 24 hour 7 days a week basis. Meeting the highest quality standards our nursing services are carried out on medical prescription in close collaboration with the physician in question.
So as to reduce the number of things you have to think about and to improve your well-being, our staff deal with the respective health insurance systems. Upon request, we also collect your treatments and/or any medical equipment required.
If you would like to talk to us about our nursing services or have an enquiry, please call 26 36 26 02.
Take an apointment
Contact us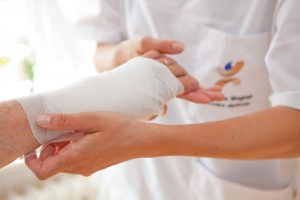 Our services
Compression bandages
For oedema, heavy legs and vein problems, your doctor can prescribe compression bandages or stockings.
Our nurses will come to your home in the morning to apply the bandages or help you to put on the compression stockings.
Diabetes
We can take care of all the aspects of your illness. Our nurse(s) will perform all the treatment required: measuring your blood sugar level, injecting the treatment, reporting back to the general practitioner, adjusting the treatment in collaboration with the general practitioner, advice, etc.
If our nurses will only manage part of your care, you will carry out the treatment along with our nurses, who will guide you, advise you and help you with your treatment (monitoring your diabetes by checking your blood sugar level two or three times a week, contacting your general practitioner if required).
Injections
Depending on your medical prescription, injectable treatments can be administered at home by our care teams (subcutaneous, intradermal, intramuscular, intravenous or via an implanted device – central venous catheter, portacath, etc.).
Drips
If your doctor prescribes one or several intravenous or subcutaneous drips, our nurses can take care of the whole procedure at your home, from putting on the drip to its removal, to make things more comfortable for you.
Blood tests
Samples (blood tests, smears, urinalysis) are taken directly at your home, for your convenience. We then send them to a partner medical laboratory. Generally, you and your doctor will receive the results the next working day after the sample is taken.
In emergencies or urgent cases, samples, which are normally taken in the morning, can be taken at any time of the day.
Medication
Our nurses can manage your treatment with medication, from picking it up at the chemist's to administration of the medication, according to your doctor's instructions. We can prepare your medication each day at your home or for a week, in which case it will be placed in a secure and intuitive pill box.
This means you can limit mistakes in dosage and medications.
Any change of prescription from your general practitioner is, of course, directly applied to your treatment.
Urinary apparatus
Do you need urological care? We can help you with urinary catheters, treatments, bladder washing, changing Cystofix® bandages, etc.
Digestive system
We can carry out your gastroenterological treatments, from inserting stomach tubes to removing them (setting up and managing enteral feeding, treatment for the different types of stoma, evacuation treatments, lavage, manual evacuations).
Respiratory system
For your pulmonary treatments, our nurse(s) can take care of your aerosol treatments and your bronchial aspirations.
Vital signs
Our nurse(s) can measure and check your vital signs (blood pressure, heart rate, body temperature, etc.)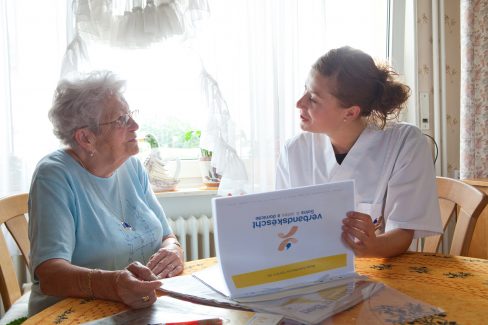 What should I do before a compression bandage is applied?
We recommend that you wash your legs with fresh water, apply a moisturising cream and stay lying down horizontally for at least 30 minutes. If you can't do this yourself, don't worry: our staff will take care of it when they arrive.
Discover our other services