Psycho-geriatric centre
In addition to nursing at home, Verbandskëscht also offers all-day care at the day centre.
In a modern and cosy atmosphere, the people concerned are welcomed at the site from Monday to Friday.
A professionally trained team organises individually adapted activities and guarantees safety and well- being for each customer.
Contact us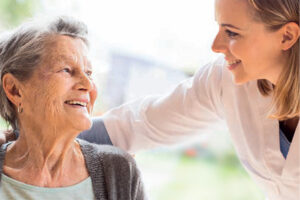 Our services
Individual care
A multidisciplinary team of nurses, nursing assistants, physiotherapists, ergotherapist, and psychologists work closely together to ensure a personalised care for our customers.
Maintain and foster the autonomy
It is also important to us that everyone has a say in how they spend their day at the site.
Stay physically and mentally active
A variety of activities in different areas are offered daily to maintain and promote the autonomy of the concerned person.
These include, for example:
memory training
fine motor skills
gymnastics
handicraft activities
small gardening activities
interactivity with animals
excursions or walks in nature
Establish and maintain social contacts
The regular coming together of different people enables new social contacts. The exchange with others has
a positive psychological effect on the well-being in general. This prevents social isolation. In addition, the person concerned, who lives alone at home, gets a structure
in its daily routine.
Feel safe
The day centre is structured in such a way that everyone's safety is guaranteed. The professionally trained staff on site helps naturally to guarantee that this feeling of safety
is permanently preserved.
Relieve the caregivers at home
The care in the day centre gives the caregiver the opportunity to go shopping or pursue a hobby in peace and quiet. This is important to provide them with a balance.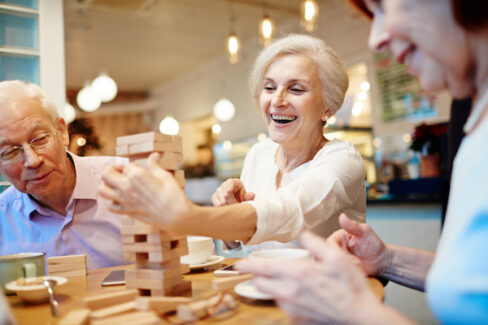 For whom?
For any person living at home who needs psycho-geriatric
care. Be it due to:
age-related difficulties on a cognitive, physical, or psychological level
a neurodegenerative disease, such as dementia or Parkinson's
What are our targets?
Feel good.
It is important to us that our customers feel good in our psycho-geriatric centre. Every day, a professionally trained team is committed to creating a pleasant atmosphere
in which each one enjoys spending time.
A new innovative lighting system (Visual Timing Light – VTL) additionally contributes to the cosiness and safety within our day structure. The lighting system is adapted to the specifific needs of elderly people. The lighting conditions are adjusted so that:
the natural biorhythm is efficiently supported
no one is being blinded
they have a positive effect on people
Well-being also includes a good, varied, and balanced diet. Every day we serve our customers a different dish, adapted to their personal wants.
Discover our other services